More senior government and business leaders join Davos Energy Week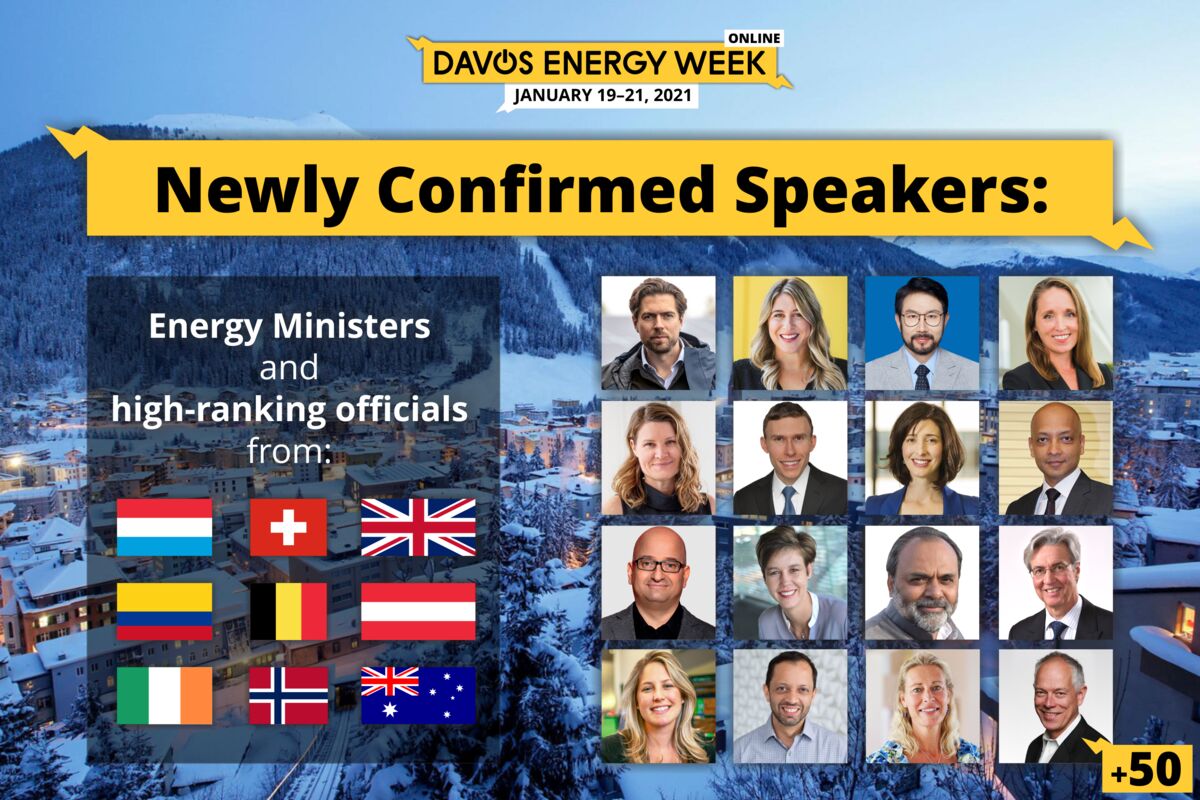 Davos, Switzerland, 14.00 CET. Davos Energy Week, a global online event organized by CFC Big Ideas, will take place on January 19–21, 2021. Over 100 energy experts and 5000 attendees will become part of Davos Energy Week to discuss the key issues of the energy industry.
In the past month Davos Energy Week was joined by
Mr. Diego Mesa Puyo — Minister of Energy and Mining of Colombia,

Benoît Revaz — State Secretary, Director of the Swiss Federal Office of Energy,

Alan Finkel — Chair of Australia's Technology Investment Advisory Council,
and more professionals from world's leading corporations and companies such as Capgemini, Enel SpA, Duke Energy, Philips, Nestlé, Chipotle Mexican Grill and others.
New additions to the agenda have been the keynote speeches of the European Ministers of Energy dedicated to their governments' plans with regard to energy development and post-pandemic recovery.
Among the keynotes will be:
"UK's Green Industrial Revolution. The Action Plan for 2021" delivered by The Right Honourable Kwasi Kwarteng — Minister of State at the Department of Business, Energy and Clean Growth of UK,
"Leveraging the oil & gas sector to accelerate a sustainable energy transition" by Ms. Tina Bru — Minister of Petroleum and Energy of Norway,
"Managing climate risks and reducing GHG by 55 % by 2030 in the light of the Covid-19 crisis recovery" by Ms. Tinne Van der Straeten — Federal Minister of Energy of Belgium,
Mr. Eamon Ryan — Minister for Environment, Climate and Communications of Ireland titled "Ireland's Action Plan: from 7 % reduction by 2030 to full elimination of GHG emissions by 2050".
The Startup Pitch Competition, part of DEW's agenda, has gathered more than 150 applicants in 5 categories: Blockchain, Renewable energy, Decarbonization, Digitalization, and Energy efficiency. The participants of the startup contest will also become part of the Online Startup Expo, where they will be able to demonstrate their product to DEW attendees.
Among the recently acquired partners are Rystad Energy and Renewable Energy and Energy Efficiency Partnership (REEEP), companies serving the energy industry, as well as Transition Economist of the Petroleum Economist media network. Additionally, Davos Energy Week has secured partnerships with two venues — The Morosani Hotels Davos and Turmhotel Victoria, where the event will be broadcasted from.
CFC Big Ideas, the organizer of the event, is an international communications consultancy. Established in 2002 as CFC Consulting, the company has made its name by implementing BIG IDEA international projects: international conferences, country presentations, special events, and advocacy campaigns in more than 40 countries across the globe. Some of the most successful projects were recognized by Bronze Cannes Lion in 2017 and Gold SABRE Award in public affairs in 2015.
Registration for the event is available via: davosenergyweek.com
Media accreditation for the event is available via: davosenergyweek.com/request/media-accreditation-request/
For any additional information, please contact Maria Bukhtoiarova, Project Manager at CFC Big Ideas and Organizer of Davos Energy Week, at mb@cfcbigideas.com.